Pachamama Night
---
Movement Medicine Dans – Ceremonie
voor het Amazone regenwoud
( Speaking English? Please scroll down )
Programma
17.00 – 18.00

Intentie Meditatie & Mantra zingen
18.00 – 20.00
Mogelijkheid om te
eten

bij de Waard van Kekerdom
20.00 – 22.20

Pachamama dans – ceremonie

( zie info hieronder )
22.20 – 24.00

Swingfeest met DJ Arkasan
Je kunt ook alleen in de middag komen
of om 20.00 uur of om 22.20 uur.
Pachamama dans – ceremonie
In deze dans – ceremonie verdiepen en verruimen we ons bewustzijn in de dans om de kracht van ons energieveld te verhogen.
We verbinden ons op een speciale manier met het Amazone regenwoud en offeren onze dans voor heling en bescherming van het Amazone regenwoud.
Intentie Meditatie & Mantra zingen
Door met elkaar dezelfde specifieke intentie uit te zenden openen we de weg voor heling en bescherming van het Amazone regenwoud en daarmee voor al het leven op aarde. We gebruiken daarbij de beproefde 'Power of 8' methode van Lynn McTaggert.
Als 'powering up' voor het zenden van deze intentie zingen we inspirerende en bekrachtigende Mantra's onder begeleiding van Dineke de Velde Harsenhorst.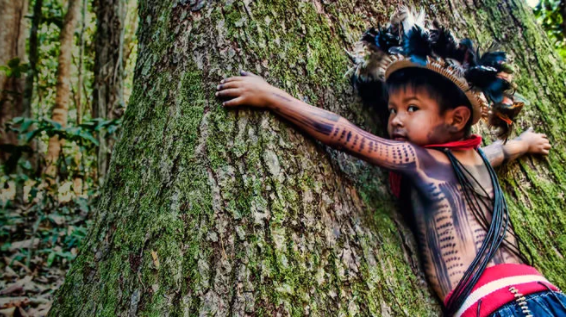 De opbrengst van deze  7e Pachamama Night! gaat naar de Pachamama Alliance, Amazon Watch en Tree Sisters.
Deze organisaties zetten zich in voor het behoud van het Amazone regenwoud en herbebossing van met de grond gelijk gemaakte tropische regenwouden, die onontbeerlijk zijn voor het leven op aarde. Zij staan ook met elkaar in contact.
Amazone Watch is een geweldige organisatie die eveneens werkt voor het behoud van het Amazone regenwoud. Je kunt ook heel gemakkelijk aan hun acties deelnemen via hun website.
Bekijk ook de website van Tree Sisters, een super goed en noodzakelijk herbebossing initiatief.
Ik nodig je van harte uit om ook een Tree Sister te worden en deel te nemen aan deze briljante herbebossing Revolutie die zo snel mogelijk uit moet groeien tot een wereldwijd gedragen project om de noodzakelijke hoeveelheid bomen te kunnen planten binnen 10 jaar.
Er staan ook prachtige en inspirerende interviews op deze website. ( Don't miss it )
Fundraising Movement Medicine workshop and Dance Party
for the protection of the Amazon rainforest

Program
5.00 – 6.00 pm: Intention meditation
8.00 – 10.20 pm: Pachamama dance ceremonie
10.20 – 24.00 pm : Danceparty with DJ Arkasan
Movement Medicine workshop
In this workshop we will open up to a deeper and wider awareness in order to increase the level of the energy available to us. We will connect with the Amazon rainforest in a special way in order to offer our dances for healing and protection of the Amazon rainforest.
If you want to attend the workshop please be in the dance space at on time.
You can also spend time under the stars by the fire outside.
The benefit of this fundraising event will go to the Pachamama Alliance, Amazone Watch and Tree Sisters.
These organisation work for the preservation of the Amazon rainforest and for reforesting destroyed tropical rainforests, which are vital for all life on Earth.
For information about The Pachamama Alliance: www.pachamama.org